DJI Spark Tips and Tricks – Get The Most Out Of  Your Spark, Fast!
Just got your shiny new Spark and want to get up and running fast? Had your Spark a while, and want to get the most from your purchase? We've pulled together the DJI Spark tips and information to help you get the most out of DJI's pocket rocket, without having to read tons of manuals and online information.
The DJI Spark is a mini-drone that features most of the company's best-known technologies and is a great drone for beginners. It hosts features such as intelligent flight control, a mechanical gimbal, and a high-quality camera made to capture detailed and magnificent images. 
With creativity at the forefront, this little machine packs a punch. If you're willing to spend the money to get a quality product, you should learn how to make the absolute most of it. Read our DJI Spark tips to transform the Spark from a mini-drone that you like, to a drone that you adore. 
Connecting & Activating the Spark
Before you can fly your Spark for the first time, you have to activate the device. The first thing you will want to do is connect the battery to the charger and wake it up. Nothing will work if you don't have a charged battery!
After you do this, you'll need to launch the DJI Go 4 mobile app. Select "scan QR code" and scan the code on the battery compartment. When you have successfully scanned the code, go ahead and turn on your Spark. After you agree to the terms and conditions that will pop up on your mobile device, you will be able to tap the activate button and connect your phone to the Spark. 
From here, you can name your aircraft and set your desired units (imperial or metric) as well as set your operating mode (select 'Beginner' if  it's the first time using the Spark), enable 'Advanced Gesture Mode' so you can use hand gestures to control the Spark, and select a joystick mode – we recommend sticking with default mode here.
This process can be a bit confusing and temperamental, so be sure to contact DJI Support for additional help if needed.
Pairing Your Remote and Drone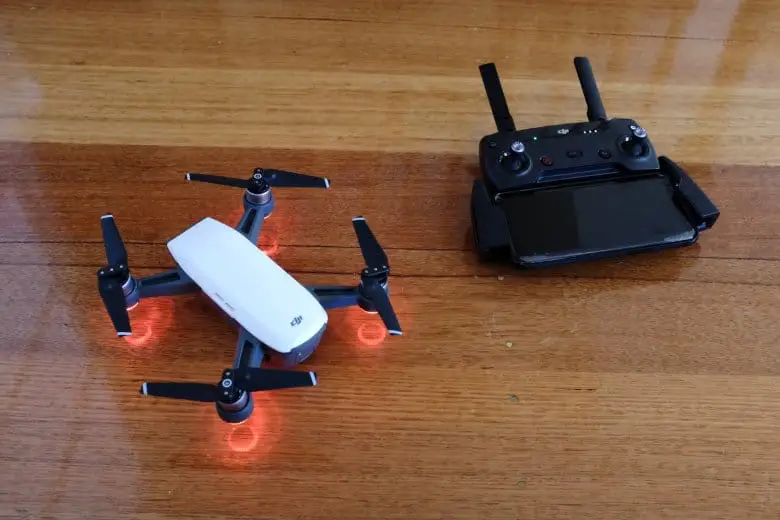 Pairing your remote with your Spark is very easy:
Switch on the Spark.

Hold power button on the Spark for 3 seconds, and release when it beeps and the front 2 LEDs start flashing.

Now switch on the remote control, then press and hold the Pause, FN, and customizable shoulder buttons at the same time. 

The controller light will turn green if you are successful.

This completes the linking and your remote should now be paired with your drone. 
In addition, you can use the remote controller power button to switch from your mobile device to the remote controller. When you press and hold the power button for 3 seconds, you should hear 1 beep, indicating that you have switched from mobile to remote controller. Do the same but hold it from 6 seconds. You will hear 2 beeps, meaning you have switched from remote controller to mobile. 
Finally, hold the remote controller power button from 9 seconds to hear 3 beeps to reset the Wi-Fi on the remote. 
Connecting via Wi-Fi vs. OTG Cable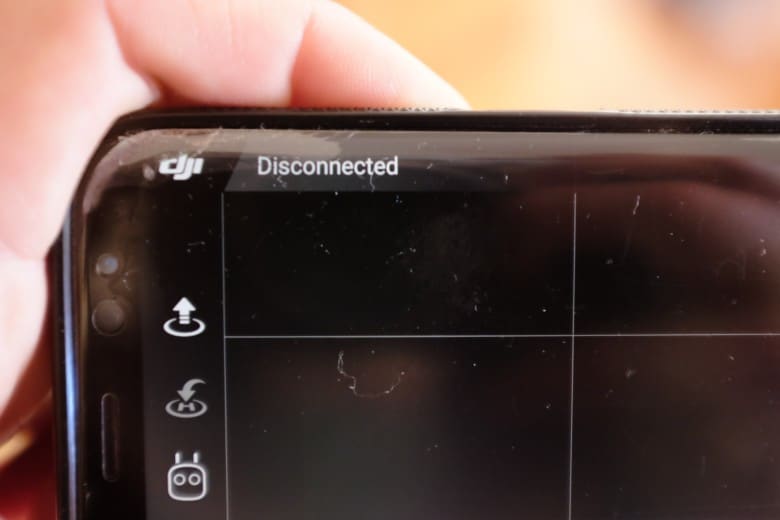 There are two ways to use your Spark: you can use a Wi-Fi connection through your phone and the controller, or you can use an On the Go Cable to use it without Wi-Fi. Both options are valid and useful, so we'll talk about how to use both of them. 
Wi-Fi 
Spark's remote controller supports 2.4 GHz and 5.8 GHz dual-band Wi-Fi frequencies, and the Spark, the remote, and your mobile device all have their own individual Wi-Fi networks. Using these, you have to connect your Spark with the remote and then the remote with your mobile device. 
OTG Cable
An On the Go Cable allows you to use your Spark without a Wi-Fi connection. Doing so will give you better overall performance, so many people prefer to use this method. 
You'll have better luck connecting via your OTG Cable if you turn off your Wi-Fi altogether. Many mobile devices will want to automatically connect your remote controller to its Wi-Fi, making the whole process a bit more frustrating than it needs to be. 
So, make that your first step: turn off your mobile device's Wi-Fi. 
From there, the following steps should work:
Turn on the remote controller

Turn on the Spark

Wait for the green light, indicating that the Spark and the controller have linked

Open your DJI Go app

Plug the OTG Cable into the device and then into the controller

Wait for the app to accept the OTG
These simple steps should work with any device, be it iOS or Android.
Travelling with the Spark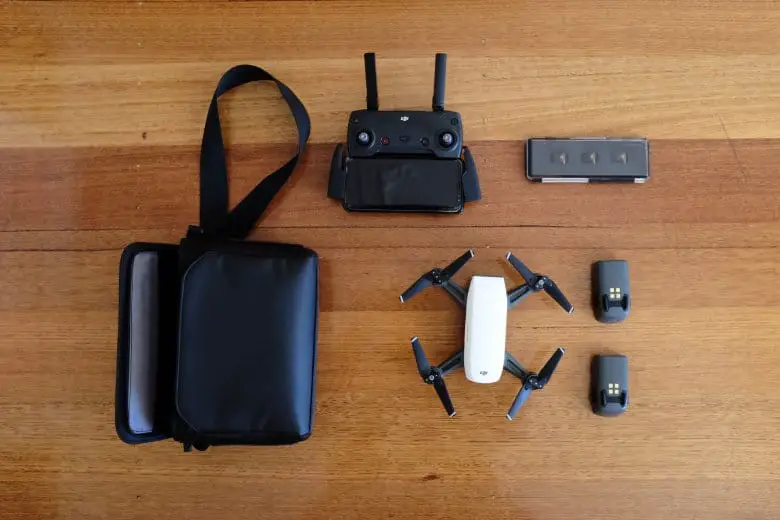 Travelling with your mini-drone may make some people feel a bit anxious, as no one wants to risk damaging an expensive piece of equipment. But there are definitely things you can do to make travel easier and safer for your Spark. 
Tips for Taking your Drone on a Plane
If possible, you should try to keep your Spark with you at all times when flying. If you can, carry it on the plane rather than checking it. Larger drones may need to be checked due to size requirements, but you shouldn't have too much of a problem with the Spark since it's a mini-drone. 
In the same way, keep the batteries with you. Even if you do have to check the drone, you are supposed to keep the batteries in your carry-on.
With your batteries, you will need to check your airline's watt-hour limit. Airlines will limit your Wh and the number of batteries you can carry on a plane.
While planning your trip, make sure you research your location's local drone laws. Every place is different; some areas are off limits to drones, so be respectful of the place you're visiting. 
Get a Good Carry Case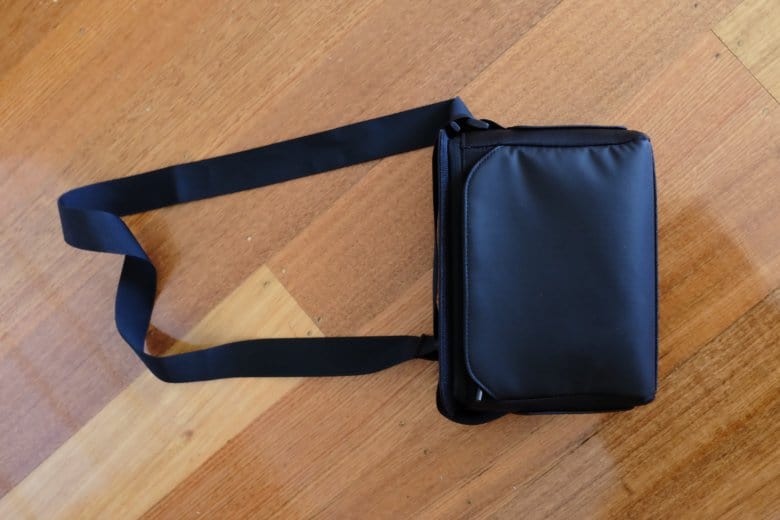 One of the best ways to protect your Spark is to get a good, solid carrying case for travel. The best cases are hard cases. While the Spark comes with a sturdy foam case, it's certainly not built for frequent travel or to withstand getting dropped or other rough treatment. 
Amazon sells some great DJI Spark cases that have a hard outer case with foam in the middle specially designed to hold your Spark and its components. Look for the cases that are waterproof. It will be worth the cost. 
Get a Drone Controller Case
In addition to a case for your drone, you can also find cases specifically for your remote controller. This part of your Spark is just as important as the machine itself, so you are going to want to give it the same excellent protection. 
As with the drone case, Amazon sells some high-quality cases for your remote controller for very reasonable prices. These cases should also have a hard outside and are made to fit your controller like a glove. 
With the case, you should also get yourself a joystick protector. These will keep your sticks safe and prevent them from bending or breaking. 
Updating Firmware
In the same way that you have to update your phones software, DJI will often release various firmware updates for their products. These updates are typically minor, but they serve to mitigate bugs and improve general functions and features, so you should always keep up with them. 
Using the DJI Go 4 app, you can easily update your firmware anytime there is a new release. 
The first step in updating your firmware is making sure your app is up to date. Most people set their phone to automatically update their apps, but if you haven't done this, you should double-check to make sure you have the latest version. 
After this, follow these steps:
Fully charge or plug in your mobile device

Connect your device to the internet

Make sure your mobile device is connected to your Spark and remote controller

Ensure both your controller and drone have power
From here, you are ready to update your firmware:
Launch the DJI Go app

Tap the "update now" button located at the top left of your screen

Locate the "download now" button and tap it

Follow the prompt that appears after the download that tells you to change to your Spark's Wi-Fi signal; this entails going into your Wi-Fi settings and selecting your Spark's network

Go back to the DJI Go app and tap "start update." Your drone will restart automatically, so do not exit the app or turn off the drone

Click "OK" when the app tells you the update is complete. Go back to the app's home screen. The top left corner should say "update complete" in green.
This completes the firmware updating process. Many experts and users recommend manually restarting the Spark after this process just to be sure. You can also check your aircraft status to ensure that it reads "Normal (Latest Firmware)"
Battery Charging Hub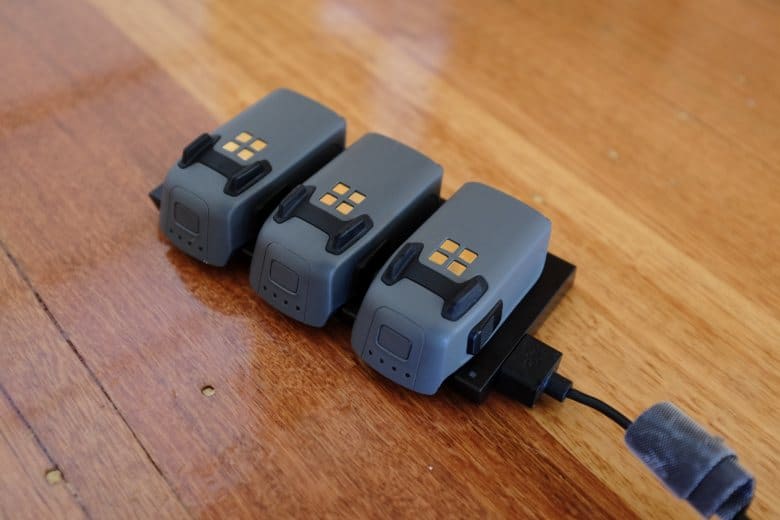 The Spark's battery charging hub is great because it can charge 3 Spark batteries at once. It will charge simultaneously or in sequence depending on battery charge and battery temperature.
In addition to its multi-slot use, this smart technology limits the charging current. Doing this not only keeps you safe, but it prolongs the battery life. 
With 3 batteries in the charging slots, it takes about 90 minutes to reach full charge. 
You can also use the portable charging station that is available for these types of batteries, which is great to use on the go and can charge 3 batteries in around 2 hours. The charging station takes around 1.5 hours to gain full charge, so bear this in mind when planning to head out.
Get a Fast SD Card
Because the DJI Spark is a mini-drone, its internal processes tend to run slower than other more sophisticated drones, so technically you don't need a super-fast SD card. However, it never hurts to lean towards the fast side.
These are some of the fastest, compatible SD cards you can use with your Spark:
Sandisk Extreme Pro 64GB U3

Sandisk Extreme Plus 64GB U3

Delkin 64GB U3

Samsung Pro+ 64GB U3

Samsung Pro Select 64 GB

Transcend Ultimate 633x 64GB U3
This is just a short list of options. You can visit this page to see a longer list of your other SD card choices.
Use a Take-Off and Landing Pad
The Spark is a mini-drone, and therefore a smaller model than other drones. Because of this fact, it has very small landing gear that can make it difficult to take off from unstable surfaces. 
The best way to address this issue is to make yourself a take-off and landing pad. While this drone is certainly small enough to take off from the palm of your hand (and it can be pretty cool to do that), you can also use your drone carrying case.
Other smooth, hard surfaces will work just as well. You can take a solid box or container and make that into your take-off and landing zone. Anything that's sturdy and portable will serve you well. 
Gesture Mode
One of the coolest things to love about the Spark is its gesture mode, which allows you to control your Spark with just hand movements. As awesome as this feature is, it's important to practice it and nail down your exact movements to avoid damaging your Spark or losing control. 
Follow these tips to Palm Launch and go into Gesture Mode:
Hold your Spark arms length away from your face with the camera pointed towards you

Double-click the power button on the Spark

Wait for the front lights to turn green; when they do, release the Spark, and it will lift off

Raise your hand flat and facing the drone and hold in place until the lights turn green again

Move your palm to move the drone!

To land – hold you palm open below the drone. If you are close enough it will slowly decend into your palm.
This is the basic start of gesture mode, so make sure you read more and practice to nail down all of the tricks.
DJI Spark Photography Tips
When using a drone, you have the opportunity to get some fantastic photos. Get the most out of your drone photography experience by following the below tips:
ND Filter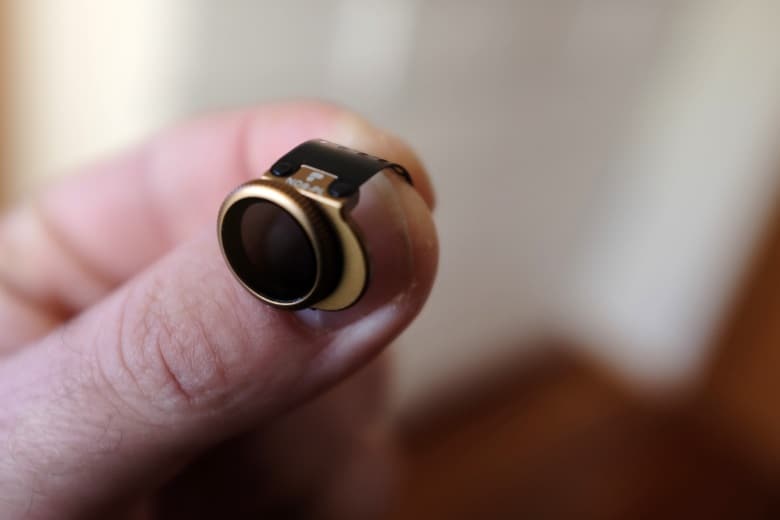 The ND filter, which comes in a couple of different varieties, lets you capture your best-ever photos and video footage. These filters limit the amount of light going into your camera, so you can reduce your shutter speed and get smoother footage. Aim to use the filter that will enable you to use a 1/60th shutter speed. 
Tripod 
Tripod Mode is one of the intelligent features on the Spark. When in this setting, your drone will move significantly slower, allowing you to capture smoother video and better photo's. It's great for indoor use or when you're flying close to the ground and don't want to move too quickly. 
Clean Lens
This should go without saying, but maintaining a clean lens for any device that captures images will result in high quality. Some people use a simple cleaning kit made for eyeglasses to clean their lens. You can also use a soft cloth or cotton pad to clean your lens. Alcohol can leave a film, so it's best to avoid that. Some like to use a very small amount of Windex. 
Good Apps
There are a few good apps available for you to use with your Spark aside from the DJI Go app. These are: 
Litchi – Use this app to further explore your options in autopilot as well as shoot automatic panorama shot, track moving objects, and let your Spark follow a second smartphone
NATS Drone Assist – Use this app to learn the rules and regulations of your area, as well as to view warnings of ground hazards and file flight plans
DJI Assistant App – You can invoke the use of the DJI Assistant app to find extra settings and functions for all DJI products. 
Sun Surveyor – This app works with your phone's GPS and compass to calculate when and where the sun is going to rise and set. You can use this if you want to plan some breathtaking sunrise and sunset photoshoots
Loss of GPS Signal
When you lose your GPS signal – and this is bound to happen at some point – your drone will go into ATTI mode. This is short for altitude mode, which basically means that your drone will maintain a certain altitude. 
ATTI mode is concerning because the GPS signal is no longer stabilizing your device. Your drone will not be able to return home, it will not correct any drifting or compensate against wind, and will not hover in place accurately.
While ATTI mode is cause for concern, because it could very well make you lose your drone, learning how to fly your drone in this mode can help save your Spark.
The GPS signal allows a pilot to be more hands-off, while ATTI mode requires all of your attention and efforts. You will have to compensate for the wind causing your Spark to drift as well as work without stopping. 
The best way to prepare for this scenario is to practice in ATTI mode before it happens. 
DJI Spark Tips: Easier Flying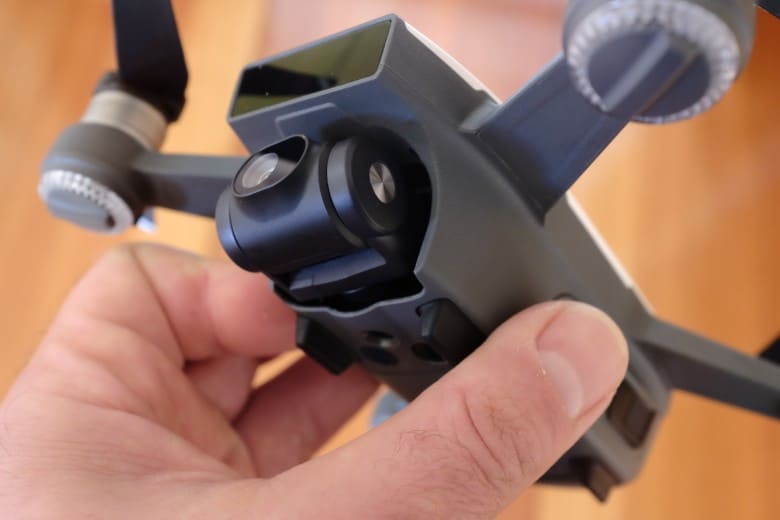 A few extra tips can help as you fly your new mini-drone. One that we love is the grab to stop feature. If for some reason you're having trouble maneuvering your Spark, you can reach up and grab it by the dark grey section of the body. When you flip it upside down, the Sparks motors will stop. 
Avoid obstacles by flying in an open area. Pick a spot that has few trees, telephone poles, and people – at least until you've mastered the controls. Inspect your environment before you take off; you don't want to miss any thin ropes or telephone lines that are hard to see. 
Set your Return to Home (RTH) altitude before you get started. When you put your drone into RTH mode, it will automatically fly back to your preset altitude and then to the home point. 
Check for a strong GPS signal before you take off. We recommend that you have at least ten satellites found (shows the number on your tablet or phone screen) with more than 4 bars of signal. This can help you avoid going into ATTI mode. 
Can you fly the DJI Spark without a controller? Yes you can, BUT you have to use your smartphone which provides less accurate controls and a far shorter range.
Summary
The DJI Spark, though smaller and less expensive than other drones, has several features and awesome abilities that you will love. The more you learn and try things out, the more you'll grow to love your little drone. 
From various apps to carrying cases to modes and settings, the options are endless. You can capture incredible images to post or frame or publish. Use your phone, your remote, or even your hands to control this small device.
We hope that you find these tips useful and you have many hours of enjoyment with your Spark.