Best VR drones – 2021 Guide to Drones and Headsets
What do you get when you combine two of the most exciting consumer technologies of the 21st century? You get a VR drone. After reading this article you will know all about the best VR drones on the market.
What is a VR drone? Put simply, a drone with the ability to be controlled using a VR headset (see here for an overview of virtual reality) instead of a traditional RC handset or smartphone interface.
The feeling of slipping on a pair of VR goggles and taking flight is a truly engrossing and futuristic experience. But knowing what drone is best for use with VR, what goggles to buy, or what combination of both to go with can be difficult.
That's why we've put together this round-up of the best VR-enabled drones, headsets, and packages on the market today. Read on for a comprehensive look at the best options to suit budget and use case and to find out why, in our opinion, DJI Mavic Pro is the absolute best option on the market in 2019.
VR and drones: why bother?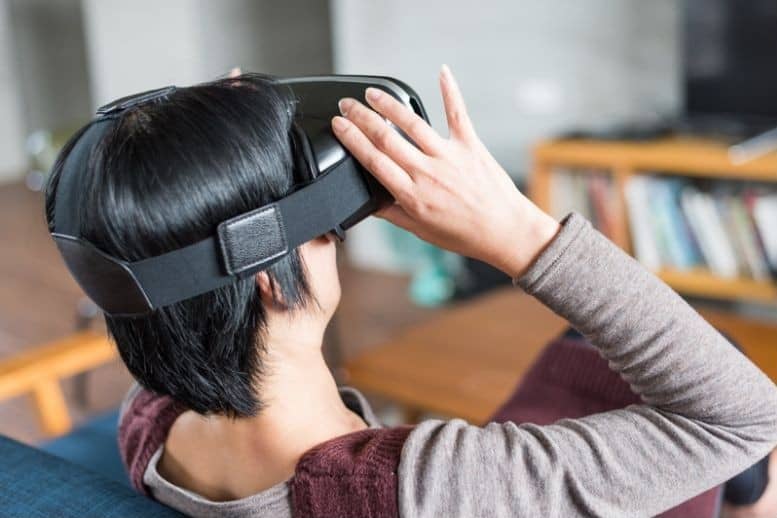 Before we get to the reviews, first let's take a look at why you might want to consider a VR drone in the first place. For many, the feeling of flying a drone in first person view (FPV) –  check out this description of FPV – and controlling its movement with VR goggles is a thrilling way to experience near-future technology today.
Piloting a drone through VR feels like stepping into a science fiction story, and what could be cooler than that? A bit like the Lawnmower Man movie, but way better!
If you want a more practical reason to explore the use of VR with drones, however, there are plenty to choose from. Broadly speaking, flying in FPV using VR offers a more immersive experience and many drone pilots report that it makes flying easier.
Before flying FPV, we would recommend mastering the basics of drone flight. Best would be to use a non-GPS drone initially to really get a feel for how a quadcopter behaves in flight and reacts to control inputs. We have an easy to follow guide on learning to fly a drone here.
If you're using your drone for videography or still photography (see here for guide to camera drones), this immersion also helps you get a clearer idea of what you're recording and offers far greater control over the image you're capturing than when you're squinting at a phone screen or cheap tablet.
If you're more into racing drones than filming with them, this immersion becomes even more important. FPV headsets specifically designed for racing drones offer extremely low-latency streaming that allows for excellent levels of accuracy and control which can be the difference between winning and losing a race.
What to look for in VR goggles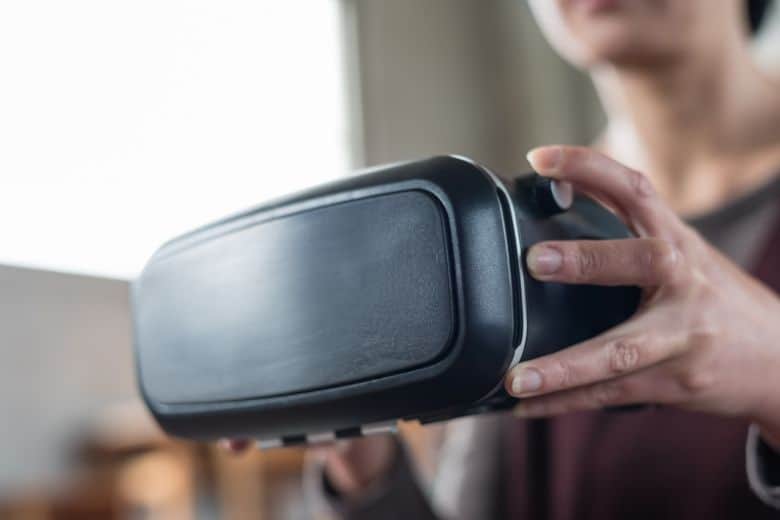 If you're convinced that a VR headset is the way to go (which you should be!) then the next question to answer is what, exactly, you need to buy to make your VR dream a reality. If you already have a drone, then you just need a compatible set of goggles. If you don't, you can either buy one of the drones we recommend below, which are particularly suited to VR control, or a package that combines a drone and specially designed headset together.
When shopping for goggles, the most important things to consider are the quality of the image and how comfortable it is to wear the headset. While image quality is usually the first thing people prioritise with VR, fewer consider the implications of an uncomfortable pair of goggles. If you've ever bought a pair of headphones, only to find yourself with aching ears a few hours into a gaming session, then you'll know how important comfort is. You're going to be wearing your VR headset quite a bit when piloting your drone so weight, padding, and how it fits, all need to be considered.
A comfortable headset that streams a quality image with relatively low latency (meaning that there is as little delay as possible between what the drone sees and what you see) is all you need for a good VR piloting experience. However, if you want to use your VR headset for other things, too, you may want to consider looking at information about how suitable the headset is for gaming, whether it has augmented reality capabilities (how augmented reality works), and more.
VR drone reviews
We've broken our reviews down into three categories: goggles, drones, and combined goggle and drone kits. Within these categories, we've listed the very best options available on the market today across various price ranges and use cases, to help you decide exactly which one is right for you.
The best headsets
The best VR headset for DJI drones: DJI Goggles 1080p HD 
If you already have a DJI drone, and are looking for a way to take your flying experience to the next level, then what better product to use than DJI's own goggles? These slick looking goggles are pricey, but for your money you get plenty of the innovative, cutting-edge technology we've come to associate with DJI. The goggles offer both 720p/60fps piloting and an incredible full-HD 1080p/30fps detail resolution, with 360-degree coverage and head tracking, to support a hands-free, HD viewing experience.
A super-low latency of 110ms ensures a smooth experience, while DJI's OcuSync technology allows up to four headsets to connect to one drone, meaning your friends can join you on your flight. If you have the money, these are absolutely the best goggles out there for use with DJI drones. See here for further info on DJI and other drone companies.
Key specs: 1080p resolution, 110ms latency, 6 hour battery life  
The best all-round (non-racing) VR headset: EACHINE VR-007 Pro 
If you don't have a DJI drone, or don't want to spend several hundred dollars on a premium headset, then the EACHINE VR-007 Pro offers a much more affordable alternative. For around a tenth of the price of the DJI Goggles, the VR-007 Pro promises easy entry into the world of VR piloting.
The specs aren't nearly as good as DJI's -the VR-007 Pro has a 480x272p resolution and a 2.5 hour battery life – but this lightweight headset is portable, comfortable, and convenient, able to be worn over glasses and charged quickly. Since it was released there have been hundreds of five star reviews published online from satisfied customers enjoying VR piloting at a bargain price. In our opinion, they aren't wrong and the EACHINE goggles are an excellent choice for anyone looking to dip their toes into the exciting world of VR drones.
Key specs: 272p resolution, 2.5 hour battery life  
The best VR drones
If you don't already have a drone and want to buy one that will be suitable for use with VR goggles, then you can't go wrong with DJI. Any of their drones, when paired with the DJI Goggles, will guarantee you a premium piloting experience. The Mavic Pro, the Phantom 4 Pro, and the Spark each have their own best uses, but each represents the top-of-the-class in their respective category.
DJI Mavic Pro
The Mavic is rapidly becoming DJI's most popular drone, and for good reason. Its innovative foldable design makes it great for travel, but the technology inside is every bit as good as that you might find in larger, less-portable models. A 30 minute flight time, 7km range, and a 4K camera put it among the top-performing drones currently on the market, full stop.
Key specs: 30 minute flight time, 7km/4.3 mile range, 12mp camera, 4K video    
Who it's for/not for: it's for pretty much everyone! 
DJI Phantom 4 Pro
The Phantom series of drones are the original drones most associated with DJI, and the 4 Pro is the most advanced iteration of this series yet. Aimed at prosumers and serious filmmakers, the Phantom 4 Pro matches most of the Mavic's key statistics, but where the Mavic prioritises speed and size, the Phantom is all about the camera. A 20mp, 4K camera sits on a gimbal below the Phantom's chassis, and DJI have oriented the technology packed into the drone around getting the perfect shot every time. Sophisticated collision avoidance and unparalleled stability make this drone the perfect filmmaking tool.
Key specs: 30 minute flight time, 7km/4.3 mile range, 20mp camera, 4k video    
Who it's for/not for: the Phantom is for serious filmmakers, but frequent travellers may prefer a lighter and smaller drone.
DJI Spark
 CHECK ON AMAZON
The Spark is DJI's most accessible, affordable drone, but it still features a lot of technology found on  DJI's more professional offerings. It features most of the cutting-edge autonomous flying technologies that have distinguished DJI from the competition, and its key statistics are nothing to be shrugged at either. All of this comes wrapped in a small, lightweight package that makes the Spark perfect for VR drone flight on-the-go.
Key specs: 15 minute flight time, 2km/1.25 mile range, 12mp camera, 1080p video    
Who it's for/not for: it's great for travellers and beginners, less so for professionals and prosumers  
Force1 U818A
If you're looking to get into VR drones without paying DJI prices, the Force1 U818A offers an excellent, affordable alternative. For a tenth of the price of a Mavic or Phantom, the Force1 comes with everything you need to get off the ground. A 2mp, 720p camera has been designed specifically for FPV control, but you will need to pick up a VR headset.
A robust chassis with propeller guards make this a great choice for crash-prone beginners, while more advanced fliers will appreciate features like altitude hold and the option to perform 360 flips. Key stats are a long way off DJI's benchmark, but in our opinion, for the price the U818A represents great value for money.
Key specs: 9 minute flight time, 100m/300 feet range, 2mp camera, 720p video    
Who it's for/not for: beginners will love the U818A, but more advanced users and filmmakers will probably want to spend more for a more premium experience  
Zerotech Dobby Drone     
Lastly, we come to Zerotech's Dobby. This unique little drone takes up barely any more room than a large smartphone when folded, and yet it comes packed with some surprisingly advanced features that make it perfect for VR use, as well as for filmmakers and anyone else looking for an alternative to the much more expensive Mavic.
The Dobby has a 300m range, a 13mp camera capable of capturing 1080p video, and GPS technology that helps the Dobby maintain its position. This little drone is also small enough to be used indoors (like the drones shown in this article)! Unfortunately, the Dobby's battery life somewhat lets it down, with most users reporting around 5 minutes of flight time with this drone. Despite this, if you want a drone you can shove in your bag for those moments when you need to grab a quick bit of aerial footage or a drone selfie, we think the Dobby is a great choice.
Key specs: 5 minute flight time, 300m/900 feet range, 13mp camera, 1080p video    
Who it's for/not for: the Dobby is great for beginners and travellers, less so for prosumers with high demands  
The best drone/headset kits
Parrot Bebop 2 FPV Drone Kit with Parrot Cockpit Glasses and Parrot SkyController   
If you're starting from scratch and want a hassle-free way of getting into VR drone flying, a kit that bundles drone and headset together is an excellent option. Among the best of these is Parrot's Bebop 2 FPV kit, which includes their excellent Bebop 2 drone, their range-enhancing, bespoke Skycontroller 2, and their specially designed Cockpitglasses.
Even without the extra kit, the Bebop is a solid investment. Strong battery life and range and an advanced nose-mounted camera give the Bebop a premium feel, while GPS technology, WiFi control, and a custom app make flying this great little quadcopter a breeze. The Cockpitglasses take this experience to the next level with immersive, 90-degree FPV flying.
Key specs: 25 minute flight time, 2km/1.25 mile range, 14mp camera, 1080p video    
Who it's for/not for: we love the Bebop 2, and would recommend it to anyone except those who feel they need the most cutting-edge technology  
REDPAWZ R011 and VR-D1 FPV Goggles 
 
Last, and least, is the REDPAWZ R011. By least, we mean this is both the cheapest and smallest drone on this list by quite a large margin. You can also check out other cheap drones in this article. But despite its tiny size, this palm-size drone still offers a VR-ready FPV flying experience, perfect for exploring indoors. If you've ever wanted to be a fly on the wall, the R011 can make it happen!
Bundled with a headset similar to the EACHINE model reviewed above, the R011 offers a fun, 120 degree immersive flying experience. There's not a lot of information on the R011's capabilities online, but given that this little drone is only designed to be flown indoors, unless you live in a mansion, you're unlikely to push past its maximum range. Flight time is about 5 minutes, while the HD camera delivers a good FPV view but can't capture video or photos.
Despite these drawbacks, the R011 still comes with our recommendation. It's staggering that this tiny drone can offer a full VR FPV experience at such an affordable price. If you just want a fun drone you can fly around your house, you won't find a better option than the R011.
Key specs: 5 minute flight time, indoor-only range, HD FPV camera    
Who it's for/not for: it's not for anyone looking for a serious drone, but for kids – and kids at heart – the R011 is a great bit of fun
So… which is the best VR drone?
Unsurprisingly, the crown goes to DJI. We think that the DJI Mavic Pro, when paired with the DJI Goggles, represents simply the best VR drone experience currently available on the market. An unparalleled range and flight time, a sophisticated camera, and a seamless VR flying experience all set the Mavic apart from the crowd. We think DJI's advanced technologies and innovative designs more than justify the high prices of their drones. If you have the budget, we unreservedly recommend this combination.
That being said, if you're looking to get into VR flying without spending four figures, you could do much worse than Parrot's kit, which features a quality drone plus all the accessories you need to get off the ground for a fraction of the price, but with only a small sacrifice in functionality.