Best Drone With Camera – Top 20 for Sale in 2021. Wise up to the Best Models on the Market.
—–Updated for 2021—-
What are the best camera drones? We'll answer this question and also take you through a rundown of the top models available today.
You cannot talk about the best drones with camera and not have the DJI Mavic Air at the front of your mind. It is the best all-round camera drone for the majority of use cases, and packs a killer combination of excellent portability, great video and still photograph quality, along with foolproof flight modes.
DJI Mavic Air  
You can take it anywhere and be ready to capture wonderful moments in great quality, all without attracting too much unwanted attention.
Table could not be displayed.
Best drones with camera
We think this is the most comprehensive article out there on camera drones – when you are done reading, you'll have a huge amount of knowledge about camera drones in general, and also how they sit relative to each other.

 
Amazing new possibilities….
Ever wanted to perform your own jib or boom camera shot, like in the movies? Want to fly a drone for fun*? Fancy capturing some amazing aerial photographs of your favorite locations? 
Well, you can do all of these things and a whole lot more, and for a whole lot less money than you might think. Today, any number of drones with a camera can replace a traditional aerial photography crew.
Consumer drones have been with us for a while now, and the technology has improved very quickly indeed. By the way, check out our article on how drones work to learn more.
They also make a great addition to beginner, enthusiast, and professional photographers and videographers kit bags, as they provide the capability to capture shots only previously possible with cranes, rails, and even helicopters!
*read our article on flying drones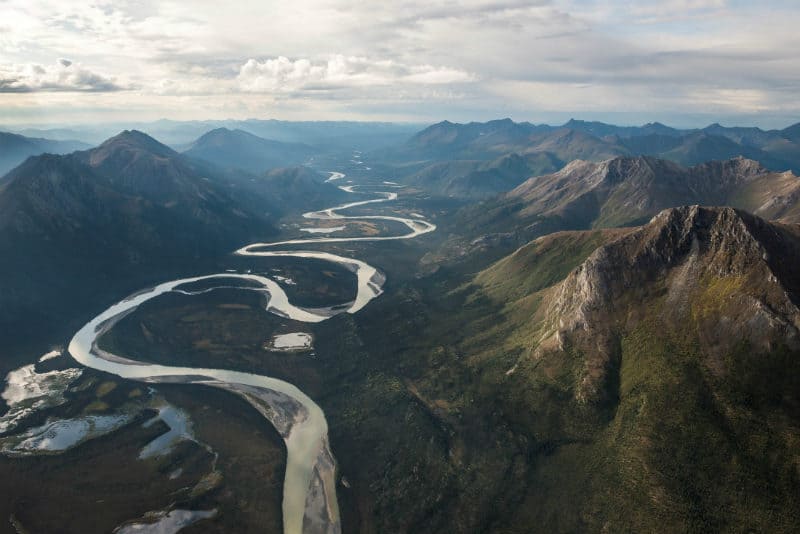 The main reason drones blow my mind, from a photography and film making point of view at least, is that for a few hundred bucks you effectively have the same capabilities a helicopter and camera crew has, for a fraction of the price and a lot less hassle.
This not only makes video production and aerial photography cheaper for businesses and individuals, it now offers the small business, the hobbyist, or anyone else for that matter, a range of new possibilities.
Take 'A Another's' small real estate business for example (just made that up, don't google it..!..), who advertises on the local TV network…..instead of the old footage of the owner stood in front of the shopfront, he can now show stunning aerial flyby's of properties for sale….sweeping  panoramas of the local area, and even a dolly zoom of Jim the owner! I'm sure you get the idea!
I think that anyone who has only used a cheaper or older camera drone would be blown away by the quality of footage and stills from any of the models listed in this article. Drone cameras have advanced at breakneck pace.

 
Who are camera drones for?
All levels of photographers

All levels of videographers

All levels of filmmakers

Anyone who wants to fly recreationally

Anyone who wants to capture video recreationaly

Anyone who wants to fly recreationaly

All levels of people who want to fly FPV (First Person View….with goggles)

People who want to create cool home videos

People who want to create cool holiday videos

People who want to create wildlife videos and photos

Filmmakers that didn't have the budget for helicopters, steady cams, cranes, rails, etc. Drones can replace all of these!
How much do drones with cameras cost?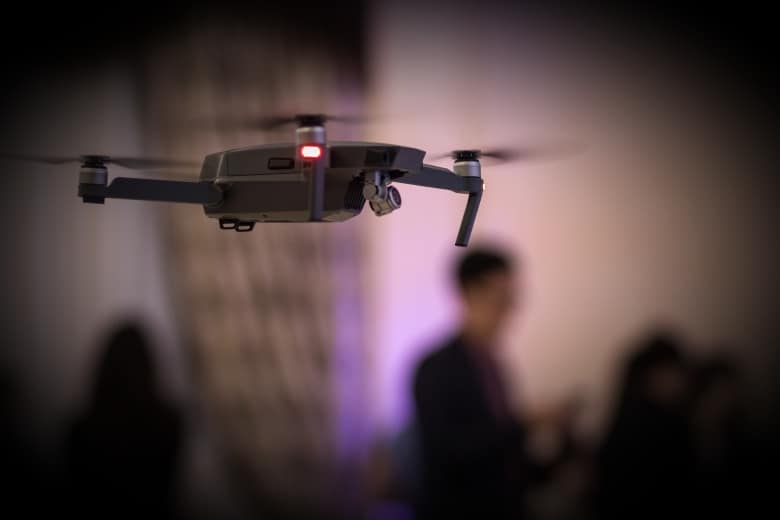 When looking at drones with a camera, we recommend a stabilized gimbal to enable a usable level of video and still quality, a flight time long enough to capture a good amount of footage/stills and make good use of the drones range, and also return to home and others failsafe capabilities to protect your investment. Further reading on long range drones, which supplements many of the drones featured here.
We think that the 24 best drones with cameras can be broken down into the following categories (with approximate pricing):
Hobby and enthusiast – between $300 and $800
The drones listed under this category are good quality camera drones with stabilized cameras that will grab you stills and footage good enough for most peoples needs.
Prosumer – between $800 and $1500
These are longer range drones featuring high quality cameras that are suitable for enthusiasts, and in most cases, photographers and videographers.
A note on accessories:- we've tried to list the best and most useful accessories for each drone. Most of the time, we've gone for OEM products, otherwise we have picked the best quality options from reputable third party manufacturers. This is important as there are a large number of poor quality accessories on the market.

 
Hobby and enthusiast camera drones
DJI Spark

VIDEO: 1080p at 30 fps
PHOTO: 12MP
FLIGHT TIME: 16 minutes
SIZE:  5.6 in X 5.6 in X 2.2 in
Save yourself a ton of cash and get hold of a reliable and rugged drone which can capture stills and video of good enough quality for web use….and can fit in your jacket pocket.

The DJI Spark is one of the best camera drones for beginners and wins out with a killer combination of portability, unbeatable value, and acceptable video and still quality.
Pros:
Fits in a jacket pocket
Rugged
Lightweight (0.66lb / 300g)
Low price
Impressive number of automatic flight modes for tracking subjects, and capturing smooth footage

Exceptionally low weight

Great entry-level drone
Cons:
A lot of reports of poor DJI customer support
Wi-Fi only transmission system, so it's wise to monitor interference before take-off and during flight
Only 16 minutes flight time
2-axis gimbal vulnerable to juddery footage when yawing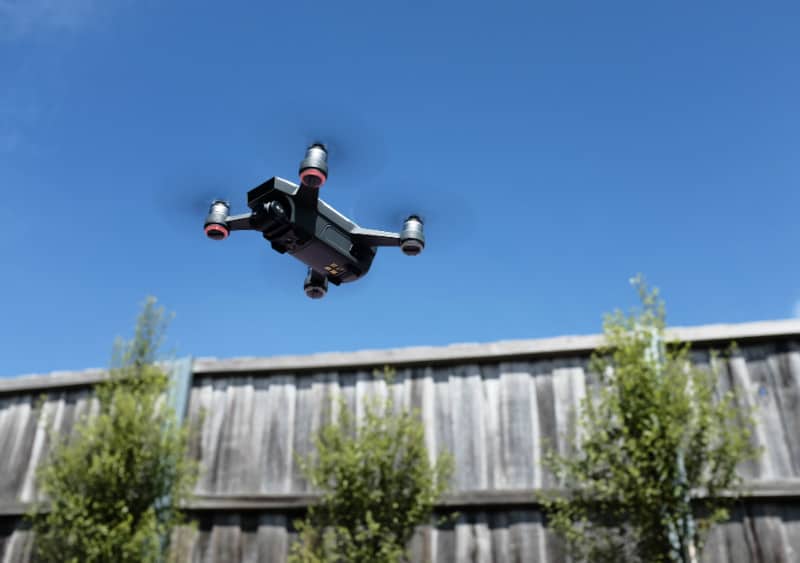 Other info
One of  the best value drones with a camera- I've smashed my Spark into poles, fences and even tree trunks (!), and only needed to replace a couple of props….THIS THING IS AS RUGGED AS HELL.
As this drone has a Wi-Fi transmission system, I like to monitor the interference on the radio channels before take off, and periodically during flight. This is only really necessary when flying in populated areas with different sources of interference, in my experience.
It has 1080P (HD) video capture which, until fairly recently, was the gold standard. 1080P is still good for most uses. This resolution produces perfectly acceptable video and still quality – especially with optional ND filters – however the files are not flexible enough for pro work as there is only one profile curve
This drone has a ton of tech. from more expensive DJI drones including plenty of automatic flight modes, like 'Circle' which will automatically orbit around your chosen subject smoothly whilst filming, and a frontal collision detector. It also has 'gesture controls' which means that you can wave at the drone to get it to do stuff.
You can fly it with a smartphone to keep costs down, although with a reduced range. See this posit for other tips and tricks for the Spark.
Tip
I would not recommend flying the Spark without the optional controller as it's difficult to maintain smooth flight and capture smooth video without it
2 axis gimbal with third axis (yaw) being stabilised by software. Video is smooth but can be a little shaky in the horizontal plane.
'Fail safe' return to home – automatically returns to home point when signal is lost for too long, or the battery is getting too low to fly back to the home point.  Check out our article on how to find a lost drone.
Tip
"ALWAYS make sure that the home point is set before take off, and changed to your current location if you have walked to another spot during flying!"
The Spark features subject tracking and following.
The controller is very similar to the Mavic Pro, where you clamp your phone into an adjustable rubberized grip. It doesn't, however, have a screen showing flight information, like the Mavic Pro does.
Top speed of 31 mph
Range – with controller 1.2mi/2km FCC (0.3mi/500m CE)
Range – with Smartphone 328ft/100m distance and 164ft/50m height
Recommended accessories
Essential as far as we are concerned – lets you fly much further, and with much more accuracy
Take 2 or 3 spares with you so you can get around 45 minutes in the air.
This handy charger will charge 3 batteries in sequence in around 90 minutes.
Propellers can, and do break, so it's always good to have a few spares handy.
Cut foam protection fits 1x DJI Spark, 4x intelligent flight batteries, 1x flight controller, 1x charger, 1x charging hub.
Reduce glare, improve color saturation, enable reduced shutter speed in order to capture smoother footage.
---
DJI Mavic Mini
VIDEO: 2.7K at 30 fps
PHOTO: 12MP
FLIGHT TIME: 30 minutes
SIZE:  5.5 in X 3.1 in X 2.2 in (folded)
Fantastic value and brilliantly packaged drone that shoots smooth video and can stay in the air for a long time. When you are finally done shooting and flying, it folds down to an incredibly small size ready to go in your bag or jacket pocket. A great option if you need portability, but don't need 4K video.
Pros:
Low weight (249g) means that you do not have to register with the FAA (USA), or the CAA in the UK*

VERY SMALL when folded – same as your typical smartphone in width and height

3-Axis camera stabilization

Incredible flight time

2.7K video is very usable
Cons:
No ActiveTrack mode

USB-A charging (boo) is slow

No obstacle avoidance sensors on the front, back, or sides
*Check local regulations in other countries
Other info
The arms holding the motors fold neatly against the body to reduce carry size

Familiar (and cool looking) styling derived from the larger Mavic Pro

GPS feature for auto takeoff, return to home, and stable hovering

Like some other DJI controllers, you use your smartphone as the screen to view telemetry and the video feed. Smartphones are held in place with neat arms that fold down from the controller.

Four 'Quickshot' modes for automatic video capture – Helix, Circle, Dronie, Rocket:

Circle – flies around the subject whilst pointing camera steadily at subject

Dronie – flies smoothly up and away from subject 

Rocket – points down at subject and flies directly upwards

Helix – circles subject whilst flying up and away
Recommended accessories
Take 2 or 3 spares with you so you can get around 90 minutes in the air.
This handy charger will charge 4 batteries, smartphone, and controller at the same time
Propellers can, and do break, so it's always good to have a few spares handy.
Holds drone, remote controller, 2 batteries, charger, cables, propellers, SD cards and many other accessories
Lightweight cage prevents props from shredding curtains and people..!..
---
Ryze Tello
VIDEO: 720p video
PHOTO: 5MP stills
FLIGHT TIME: 13 minutes
SIZE: 3.8 in x 3.6 in x 1.6 in
What is the best cheap drone with camera? This is it.
The Ryze Tello is like a mini DJI drone. It has a ton of capabilities that should not be available for such a low price! A great entry-level drone – your best option if you are on a very tight budget.
Pros:
Small and very light (80g) 

5MP camera is better than you might think

Electronic stabilization is very good considering the low price of entry

Vision positioning system enables steady hovering, and really helps flying indoors
Cons:
Low weight makes it vulnerable to wind

Not the best option if you are after good quality video

Not much else at this price!
Other info
The Tello has some automatic video recording modes, as seen in way more expensive drones, which enable you to put together some dynamic and interesting videos:

Circle – flies in a circle (surprise) whilst recording

360 – records a 360-degree panoramic video

Up & Away – flies backward whilst rising, and recording a short video

The Tello has a range of 328 foot
Recommended accessories
This controller enables you to use the precise controls of a traditionally styled drone controller, rather than flying with a smartphone. Enables much smoother flying.
Propellers can, and do break, so it's always good to have a few spares handy.
Lovely compact hardshell case for your Tello
—————————————————————————————————————————————–
DJI Phantom 3 Standard
VIDEO: 2.7K Ultra HD video at 30fps
PHOTO: 12MP
FLIGHT TIME: 25 minutes
SIZE: 19.3in X 19.3in X 7.6in
 

If you don't need portability, long range, or 4K video resolution – this is a capable and great value drone.
Pros:
Excellent value as has been superseded by the Phantom 4

Very good footage and stills
Cons:
A lot of reports of poor DJI customer support

Variable build quality

Limited range

Wi-Fi only
Other info:
Check out our detailed article 'Is the DJI Phantom 3 still worth buying?'.
Range of 3281 feet/ 1000 meters

Live video feed at 720p HD

Camera has no fish eye distortion

Auto return to home

Auto take-off

3 axis gimbal

40Mbps bitrate

1/2.3" CMOS sensor

Advanced flight modes
Waypoints – Woohoo! My favourite mode, it allows you to plan flight paths which the drone will then automatically fly to, allowing you to focus on capturing amazing shots and footage.
The controller can hold any Smartphone or tablet, and connects via Wi-Fi

Follow Me

Point Of Interest – The drone camera will ensure the selected target always stays in frame as you fly
Recommended accessories
DJI Carbon Fiber Propellers – check on Amazon
Improved performance and noise reduction. It's recommended to have spares, and these are the best in my book.
DJI Hardshell backpack – check on Amazon
Great backpack that is easy to carry (it's a backpack!) and provides a lot of protection.
—————————————————————————————————————————————–
DJI Phantom 3 Advanced
Same as Phantom 3 Standard, but with the following changes:
Upgraded Sony Exmor 12.4 MP sensor

Increased range – up to 6562 ft, thanks to DJI 'Lightbridge' technology

Slightly lower maximum flight time of 23 minutes (25 minutes on the Standard Model)

64g heavier than Standard model

GLONASS system enables more precise hovering and faster satellite acquisition
Recommended accessories
Same accessory recommendations as Phantom 3 Standard
—————————————————————————————————————————————–
Parrot BeBop 2 
VIDEO: 1080p 30fps
PHOTO: 14MP
FLIGHT TIME: 25 minutes
SIZE: 12.9 in x 5.9 in
With the optional Skycontroller, this is one of the best value drones with a camera and has a lengthy flight time and decent range. It's also quite rugged. There are a lot of reports of connectivity  issues, but with the latest updates, it's a good bet considering the low price.
Pros:
Good photos

Good flight time – 25 minutes

Good range with optional Skycontroller
Cons:
Numerous reports online of connectivity issues

Quite rugged and handles light crashes well

Easy to fly

3 axis stabilisation
Other info
You can define a flight path for the autopilot to follow – an amazing addition at this price point
Can use with a smartphone or the optional Skycontroller
Tip
Optional Skycontroller adds range and improved control in spades….highly recommended.
Reports of connection issues. Some are easy to fix, like this one:
It's worth noting that the Parrot community website is very active, so is a good place for support: Parrot Product Support
Recommended accessories
Parrot FPV pack Skycontroller and Headset- check on Amazon
Headset equipped with live HD live displays.. Skycontroller 2 comes with Smartphone holder. Very immersive!
Parrot Protective Carry Backpack – check on Amazon
Offers a lot of protection, and can also fit the Cockpit glasses and Skycontroller too!
Parrot Spare Propellers – check on Amazon
Parrot Spare Battery – check on Amazon
Get a couple to make sure you aren't driving back home to recharge after 25 minutes….!
—————————————————————————————————————————————–

Yuneec Q500 4K Typhoon
VIDEO: 4k 30fps
PHOTO: 12MP
FLIGHT TIME: 25 minutes
SIZE:16.5 in x 16.5 in x 8.3in
The Q500 is an excellent all rounder and represents great value. It features a good 4K camera, is easy to use and quiet.

This is more than just a drone with accessories, it is a full video solution – it ships  with a hand mount for the detachable gimbal so you can capture buttery smooth 4K footage on the ground as well as in the air.
Pros:
Smooth flight

Great value

Ships with a great controller with built-in screen

Good 4K camera

Quieter than most competitors

Very easy to use

120fps slow motion video capture

Removable gimbal – can be attached to handheld mount (included) for capturing smooth, stabilised footage on ground.
Cons:
Less agile than the GoPro Karma, Mavic Pro, and the Typhoon H

It's huge….dwarves the DJI Phantom range

Plastic fantastic..!
Other info
3 axis gimbal

50 Mbps bitrate

18 mph/30 km h

Super wide 14mm lens

Auto return to home

Ships with a nice controller with built in 4.5" touch screen, so no need for a smartphone

A good feature is the

'always-home arrow'

which points the way home at all times. This is useful as an orientation marker when flying the drone at distance.
Removable gimbal – can be attached to handheld mount for capturing smooth, stabilised footage on ground.
It's possible to use your smartphone to fly the drone, with the help of the CGO2 app.
Tip
Like any other drone, to maintain full control you'll want a dedicated controller and not try and fly using a smartphone. It always makes for a frustrating experience.
Flight modes:

There is an excellent video on the flight modes:
Follow me Mode – does what is says on the tin.
Angle Mode –Angle Mode provides more control and steeper bank and pitch angles. Controls are based on which way the drone is facing, which can be confusing for beginners when the drone is a distance away.
Home Mode – The Yuneec Q500 Typhoon will return and land within 10 feet of its original take off location by flicking a switch on the controller. If the transmitter signal is lost, Home Mode will automatically return the drone to its launch position until signal is restored or the drone lands.
Smart Mode – This mode is perfect for beginners and training. Flight controls are simplified so the Q500 will always move in the direction the stick is pressed irrespective of which way the drone is facing. The drone also cannot fly outside of a radius of 91 meters (300 feet).
An interesting accessory in the Typhoon Wizard controller, which looks like a TV remote control! It enables one handed operation and works well when using automated flight modes, but it is not ideal for precision flight or fast flight.
Recommended accessories
Spare Battery – check on Amazon
—————————————————————————————————————————————–
Yuneec Typhoon H 

VIDEO: 4K 30 FPS
PHOTO: 12.4MP
FLIGHT TIME: 25 minutes
SIZE: 18.9in X 16.7in X 11.6in
Pros:
Camera can rotate 360 degrees – this is possible due to a retractable landing gear

A big draw of the Typhoon H is the hexacopter design which provides greater stability than a quadcopter, and is usually only seen at a much higher price point

Retractable rotor arms
Cons:
Slightly flimsy construction

Limited range
Other info
43 MPH top speed

3281 feet/1000 meters range

Live feed – 720p at 30fps

Better stability than competition in high winds

Landing gear is good when landing on uneven or rough surfaces, and it also protects the drone

3 axis gimbal
WAYPOINTS! This feature makes me happy….
Auto return to home

The camera is removable and features a wide angle lens

Forward collision avoidance system which can be upgraded to Intel Sense Technology, which is based on 3D visual collision avoidance.
Intelligent flight modes:

Return To Home
Point of Interest – Orbits target
Curve Cable Cam (CCC) – Set a route based on coordinates and altitudes and then let the drone automatically fly the route whilst you concentrate on controlling the camera
Team Mode – Enables the main controller to operate the camera whilst the additional Wizard controller flies the drone
Watch Me – Follows you and keeps you in frame
Follow Me
Orbit Me
Is a hexacopter, so can still fly if a rotor fails

The user interface is very intuitive and all settings are easily accessible.
Controller has integrated 7 inch screen, which is very bright and usable in direct sunlight – the sun shade also helps.  Credit to Yuneec on this one as most other manufacturers assume that everyone has a newer smartphone to use with a drone controller, but that is not the case!
—————————————————————————————————————————————–
Prosumer drones
Parrot Anafi
VIDEO: 4K Cinema (4096 X 2160) video at 24fps, 4K Ultra HD (3840 X 2160) video at 30fps
PHOTO: 21MP
FLIGHT TIME: 25 min
SIZE: 9.6in X 2.64in X 2.56in (folded)
It's clear that the Anafi is Parrots answer to DJI's successful Mavic Air drone. The Anafi matches the Mavic Air's trump card – it's 4K resolution and 100 Mbps bitrate footage, but also adds zoom capability and a longer flight time.

However, the Anafi frustrates, due to lot's of niggly software problems, most notably the Freeflight app crashing often.

I will be keeping an eye on Parrot, and hoping that it fixes the software bug's with future firmware updates. If it does, I may well end up adding the Anafi to the Come Drone With Me fleet.  
Pros:
Attractively packaged, and well featured drone

Camera can zoooom!

25 minute flight time is better than Mavic Air

Great video footage

Very light weight – 0.7lb / 320g , due to light weight composite structure

2.8 X lossless zoom – it's not optical, but there is no resolution loss – mainly due to the very high resolution

100 mbps bitrate – which is very good!

Very quiet relative to other drones – quieter than closest competitors like the Mavic Air

Camera gimbal has an excellent range of motion – it  can look up 90 degrees and down 90 degrees
Cons:
No obstacle avoidance capability

Niggly software issues….hope that Parrot fixes these with firmware updates
Other info
3-axis stabilization

F2.4 aperture

33 mph top speed
Can fly underneath objects and film them, for example – under a bridge or flying up through a clearing in trees whilst looking up….this could be interesting as footage flying up, with the camera pointing down is ubiquitous, but not the other way around.
Low profile design makes for great wind resistance – Parrot claim up to 31 mph/50 km h

Range of up to 2.5 miles/4 km

Controller doesn't feel particularly good quality, and is not a very attractive design, but it is foldable. It needs a smartphone, but an adapter is available for tablet use
Automatic filming modes (called CineShots) help you to get smooth, cinematic footage:

Cameraman – Automatic visual tracking – keeps subject in frame, whilst you fly the drone

Reveal – classic tilt reveal shot. Drone flies along with camera facing down and gradually tilts up to reveal horizon
Rise – Drone rises and turns at the sames time whilst the camera tilts upwards, and then captures a panorama
Epic – Drone flies away backwards as the camera picks up the surroundings as they come into view

360 degrees – smoothly rotates and captures a 360 degrees panorama
Has a bunch of selfie modes, which are self explanatory:

Parabola

Tornado

Orbit

Boomerang

Dolly Zoom – one of my favourites see below:
There are

Slow Motion

and

Hyperlapse

recording modes for capturing slowed or sped-up footage

Folds up  into a low profile shape – like a torpedo!

Has a USB-C port so you can charge up from your car

Smart Return To Home

ensures the drone will fly back to the home point if the battery is low, or if connection is lost

An interesting feature is 'Geofence' which enables you to define a perimeter for the drone to stay within

At the time of writing, the autonomous flight modes (Follow Me and Flight Plan) are only available as paid extras through the Freeflight App
Recommended accessories:
Parrot Anafi Smart Battery – check on Amazon
Essential to have spares for any drone, and will be until they make drones fly for an hour on one charge..!..
Parrot Anafi Spare Propellers – check on Amazon
Foldable. Essential.
Freewell Budget Filter kit – check on Amazon
There is a more expensive set, with more filters, but this set covers most conditions and is good value. Contains 5 ND filters (for capturing smooth footage and reducing excessive brightness), 2 of which also have polarizer elements for reflection removal, and a Circular Polarized Filter.
—————————————————————————————————————————————–
DJI Mavic Pro (and Mavic Pro Platinum)

VIDEO: 4K resolution at 30fps, 1080p resolution at 96fps (good for slow motion footage, though not as good as Phantom 4). Maximum bitrate of 60Mbps.
PHOTO: 12MP
FLIGHT TIME: 27 minutes
SIZE: 7.8in x 3.3in x 3.3in (folded)
Picture the scene; you are out hiking with nothing more than a small backpack and you come across a beautiful valley with a river running through the middle of it. You wonder what it would look like from the air, and also from the other side of the river…..but don't want to hire a helicopter or walk 4 miles to get to the river crossing….no problem! You pull out the Mavic Pro from your backpack, get it airborne and film aerial flyby's and check out the other side of the river! Welcome to Mavic Pro ownership.
Pros:
Folds up small enough to fit in a small bag

Can choose different colour profiles to shoot in, including the D-Log profile which brings colors to a neutral value so you can grade them, and adjust them in post-production with your favourite software

Very stable considering it's compact size

Crash avoidance sensors – front and below. Senses obstacles up to 49 feet (15 meters) away in good light

Failsafe Return To Home

'QuickShot' modes enable buttery smooth automatic clip capture along a defined flight pattern. E.g. 'Circle' mode – orbits your subject whilst pointing camera at subject
'Waypoint' mode allows you to define a flight path for the drone to automatically follow. This mode work's great and enables you to focus on capturing footage

Intuitive controller with built-in screen that displays key flight information. A fairly recent smartphone is required to display the main video feed from the drones camera. The GPS maps, camera settings, and other options are controlled through your smartphone
Cons:
'Follow me' mode is sketchy – the Mavic Pro seems to lose lock of the pilot very easily. This mode is best left for slowly moving subjects, or subjects that have a linear path of movement.

Not sure if it's the 60 Mbps bitrate being insufficient to handle 4K resolution, or if it's the compression technique, but the footage sometimes shows artifacts during shows during playback. This also makes it tough in post production for colour grading and correction

Reports of poor customer support.

Banding effect when shooting directly into the sun. Renders footage unusable.

When flying at higher speeds -and thus higher tilt angles- the props. can creep into view and ruin footage or shots. Less of an issue that with the Phantom however.
Other info
Range: 4.3 miles/7km

Stabilization: 3 axis gimbal

Video feed: DJI OcuSync transmission system enables live stream of 720p/1080p

Camera sensor: 1/2.3" sensor

Camera lens: 26mm F2.2 lens – not as wide angle as the Phantom 4 Pro, but the aperture value of F2.2 means that it lets in a lot of light, which is great in dull or dark conditions

Check out this website all about Mavic model drones for further info.
Tip
You will definitely need to turn the gimbal sensitivity down, otherwise it's too tricky to achieve smooth panning.
Top speed: 40mph

Weight – 1.62lbs/734g
Mavic Pro Platinum
Same as the regular model, but with the following upgrades:
4db less noise

30 minutes flight time (3 extra minutes)
Recommended accessories
DJI Mavic Pro Battery – check on Amazon
You will want at least a couple of spare batteries when out filming or taking photographs
DJI Mavic Quick Release Folding Propellers – check on Amazon
Spare propellers are a key part of any drone kit bag
Smatree Mavic Pro Waterproof Carry Case – check on Amazon
Hardshell with precut foam interior, provides excellent protection for the Mavic and accessories
DJI Goggles FPV Headset – check on Amazon
Provide an amazingly immersive flying experience
—————————————————————————————————————————————–
DJI Mavic 2 Pro
DJI Mavic 2 Zoom
VIDEO: 4K resolution at 30fps, 1080p resolution at 120 FPS (good for slow motion footage, though not as good as Phantom 4). Maximum bitrate of 100Mbps.
PHOTO: 20MP (Mavic 2 Pro), 12MP (Mavic 2 Zoom)
FLIGHT TIME: 31 minutes
SIZE: 8.4 in X 3.58in X 3.31 in
Possibly the best drones for photography….Incredible package of portability, flight time, and camera quality….both Mavic 2 models have all bases covered…at a price to match. Wonderfully flexible optical zoom camera on the Zoom model enables you to get in close without alarming your subject – useful for filming animals, weddings, whatever you want! There are a lot of beautiful coastal spots I like to film, but they can get busy on the weekends, so with the Zoom, I could still get the footage I want without flying too close to Joe Public. 

Incredible Hasselblad camera on the Pro model – is like having a flying DSLR, and offers the quality and flexibility of one. When wondering which camera drone to buy, make sure the Mavic 2 is on the shortlist.
Note: Both the Pro and Zoom models are the same drone, just with different cameras.
Pros:
Pro model features Camera developed in conjunction with high-end Swedish manufacturer Hasselblad.

Excellent flight time of 31 minutes.

Huge sensor on the Pro model (twice the size of the Mavic Pro and the Mavic 2 Zoom) – similar in size to a DSLR sensor -, which provides excellent low light performance, and a much better color reproduction.

Pro model has an adjustable aperture – big news for photographers!
Mavic 2 Zoom has the same sensor as the original Mavic Pro, but has a 2 x optical zoom – a first for a folding consumer drone. I see two main applications for the zoom:

The ability to get shots or footage without getting too close to a subject.

Combining zooming motion and drone movement in video footage.

100 mbps bitrate is big news as means that 4K footage should be largely free from artifacts.

Both models feature the same Mavic 2 body, but the camera systems can be swapped out.

Flexible camera on the Mavic 2 Zoom: 24mm wide angle to 48mm optical zoom. If you don't mind dropping the resolution to 1080P (HD), you can apply 2X digital zoom ON TOP of the optical zoom for a super zoom effect (96mm).

The Pro model features an amazing 10-bit D-log color profile, which retains SO MUCH color information, allowing you to make your footage look just the way you want it.
Cons:
Expensive

Reports of poor customer service
Other info
Top speed 44.7 MPH

Weight: 2 lbs / 907g (Pro), 2 lbs / 905g (Zoom)

Reduced noise due to new aerodynamic features.  This is apparent when flying, and not marketing hype.

Hyper lapse – Automatic mode which takes care of assembling the image, attaining a smooth flight path, and other aspects of creating a time lapse video, and ensures that you get the result you want. You don't need me to tell you how cool time lapse videos are, or how sometimes they just don't work out when performed manually, so this is a GREAT feature!
Dolly Zoom – Zoom model only. This mode recreates a type of dramatic shot used in film making whereby the camera is moved away from the subject, whilst the camera zooms in on the subject at the same time.
Adjustable aperture – Pro model only. MASSIVE news for photographers.
Tip
You can change the lens aperture from F2.8 to F11, so you now have full control of all three elements of the exposure triangle for more creative photography. See here to learn about controlling exposure. The larger sensor, combined with the aperture 'wide open' (F2.8 on this model), makes for cool shallow depth of field (blurry background) effects.
New enhanced High Dynamic Range (HDR) – Mode which boasts 14 stops of dynamic range. HDR is great for capturing photographs with high contrast, and portraits taken in sunlight in particular.

See here for a simple description of HDR. 

Range – DJI have updated their OcuSync technology, which enables 1080p HD video to be transmitted up to 5 miles / 8km.
Zoom – The Zoom model has proper optical zoom capability  courtesy of a 4mm -48mm Zoom lens. As you may know optical Zoom is way better that digital zoom. The zoom is controlled by an excellent, precise wheel control on the controller – the same type of control as the gimbal control.
A quality optical zoom camera on a drone is a game  changer, and opens up more possibilities, some of which were really only possible before with a helicopter and camera crew.

 
Obstacle avoidance – Both models have sensors which provide obstacle avoidance in all directions …so no more flying into tree branches when concentrating on getting that shot.
Precision landing without GPS – Great if you lose GPS signal….
Recommended Accessories
DJI Goggles Racing Edition – check on Amazon
The best FPV goggles out there. Super low latency, panorama view, excellent build quality, the list goes on. Makes flying super immersive
PolarPro filters for Mavic 2 Zoom – check on Amazon
3 ND filters to reduce glare and shutter speeds. Help you to get that buttery smooth footage you know you want
Lykus M1 water resistant backpack case – check on Amazon
Tough exterior. Carries drone and accessories
DJI Mavic 2 Low Noise Propellers – check on Amazon
—————————————————————————————————————————————–
DJI Mavic Air
VIDEO: 4K at 30fps, Slow motion video 1080p resolution, 120fps, 100 Mbps bitrate
PHOTO: 12MP
FLIGHT TIME: 21 minutes
SIZE: 6.6in X 3.27in X 1.93in
If you want a drone you can take with you pretty much all of the time, and grab footage and photos that still look great stretched across your (no doubt) huge TV, then this is the drone for you. Apple showed us how important clever and attractive hardware design is, and although the Mavic Air loses out to some competitors on the spec sheet, it's desirable design and clever packaging win out.
Pros:
Very small and compact – can have it with you, and ready to go, almost all of the time

Very high bitrate – 100mbps. Provides enough latitude for color correction and color grading in post production, as well as less artifacts during playback

Front AND rear obstacle avoidance sensors
'QuickShot' modes enable buttery smooth automatic clip capture along a defined flight pattern. E.g. 'Helix' mode circles the subject whilst slowly ascending and maintaining camera lock on the subject
ActiveTrack mode – Can follow moving targets. Automatically senses and highlights up to 16 subjects at once, so you can quickly select the subject you want
Cons:
Battery life is well short of a lot of competitors

WiFi only transmission system means that range is limited compared to competitors, and there is a risk of interference when flying in populated areas

A lot of reports of poor customer support

Poor performance in higher winds when compared to a larger drone like the Yuneec Typhoon H or the DJI Phantom 4

Shorter range than the Mavic Pro, as no OcuSync technology onboard
Other info
2.5 miles / 4km range (unobstructed)

Wi-Fi only transmission system presents some risk in built up environments

Can customise the picture profile

42.5 mph / 68.4km h top speed

3 axis gimbal

Weight of 430g/0.95lb

24mm lens (35mm equivalent) – so fairly wide angle. F2.8 maximum aperture.

Foldable remote controller which clamps your smartphone (you need one to use this drone), removable control sticks. Lacks flight data screen of Mavic Pro.

The sensor system consists of forward, backward, and downward vision sensors, a forward vision camera and a downward infrared sensing system

The drone can avoid obstacles in front of and behind it actively
Recommended accessories
DJI Mavic Air Intelligent Flight Battery – check on Amazon
We suggest 3 spares due to the limited flight time of the Mavic Air.
PolarPro Cinema series 6-pack – check on Amazon
Contains the following filters: ND4, ND4/PL, ND8, ND8/PL, ND16, ND16/PL. 'PL' meaning that the filters are also polarized.
DJI Mavic Air Propellers – check on Amazon
—————————————————————————————————————————————–
DJI Phantom 4 Pro
VIDEO: 4K resolution at 60 FPS, 100mbps bitrate, 1080p at 120fps (excellent frame rate for slow motion footage).
PHOTO: 20MP
FLIGHT TIME: 30 minutes
SIZE: 11.38in X 11.38in X 7.7in
This thing can fly a loooong way for a loooooong time, capturing amazing stills and footage along the way.

It can fly on autopilot to your predetermined flight path, avoiding collisions for you, allowing you to film and snap away!

Undoubtedly one of the best drones with a camera, it gives you the best chance of getting a great shot and not missing it due to being distracted by flying, or not being able to use the footage or still because the quality is not up to scratch. This is a big one for me as drones with lower quality cameras make you work much harder with the settings, the available light, and your subject, to get the results you want.

We think that the DJI Phantom 4 Pro is the best prosumer drone for photography, mainly due to it's 20MP resolution, mechanical shutter, and large sensor which yield excellent photographs.
Pros:
5 direction obstacle avoidance
Large sensor camera – 1 inch sensor (compared to 1/2.3" in Mavic Pro), which is similar size to what is featured in a typical DSLR camera
Mechanical shutter  – eliminates

'Rolling Shutter Effect'

of electronic shutters. This shows itself as a wobble, or distortion

Ground collision sensors enable easy navigation close to the ground and indoors, as well as enabling incredible hover accuracy

Excellent battery life

'Draw mode' which enable you to draw a flight path on the screen with your finger….the drone then follows this path. This is great for concentrating on operating the camera controls whilst the drone flies itself

Tough magnesium alloy frame

Super long range – 4.3 miles
Cons:
A lot of reports of poor customer support

Many, many reports online of product faults, seemingly due to poor manufacturing quality control

Propellers feature in camera view at higher speeds (exacerbated by wider angle camera lens)
Other info
Stabilization – 3 axis gimbal
Return to home mode now has crash avoidance!
TapFly mode works well –  Tap a point on the screen of your live feed and the drone.

The Phantom 4 controller is quite large, but it is very comfortable and easy to use

A controller with an integrated screen is also available

24mm lens

Weight 10.3 pounds

Top speed 45 mph

Range 4.3 miles

New batteries are smaller and easier to remove than previous model
Recommended accessories (all Phantom 4 models)
DJI Phantom 4 Propellers – check on Amazon
DJI Phantom 4 Intelligent Flight Battery – check on Amazon
PolarPro DJI Phantom 4 Filter 3 pack – check on Amazon
Includes 3 ND filters for shooting in bright or partly cloudy conditions. Also includes a Polarizer for improved color saturation and glare reduction
————————————————————————————————————————————–
Phantom 4 Pro Plus
Same as Pro model but has a much improved controller with a  large (5.5 inch) integrated display. It is a very bright 1080p display, and works well.
—————————————————————————————————————————————–
Phantom 4 Pro V2.0
Based of one of the best drones with a camera – The Phantom 4 Pro v2.0 is the same as the Phantom 4 Pro but with the following additions:
OcuSync video transmission system found on more expensive models

Automatically switches to the frequency band with the lowest interference to help avoid connection issues

Allows you to wirelessly connect to DJI Goggles

Reduced lag and compression artifacts on 1080p live view – which means you'll get a smooth, sharp HD live view at all times

Allows connection of two controllers and a set of DJI Goggles at the same time (pending a future firmware update)

Lower latency FPV view
—————————————————————————————————————————————–
DJI Phantom 4 Advanced
Also refer to Phantom 4 Pro Review
There is not much difference between the Phantom 4 Pro, and the Phantom 4 Advanced. The biggest difference is that on the Advanced model, you cannot switch to the 5.8 GHz frequency band to gain better signal stability if you are operating in an area with very high radio interference – as you can with the Pro (good for commercial operators). 

This can be an issue when flying in heavy populated areas with lot's of home wi-fi routers.
Tip
I personally keep an eye on the radio interference checker on my drones, and always switch to a channel with a strong signal to minimise risk. I also monitor the channels periodically during flight, and fly away from possible interference sources if I see nearby channels deteriorating
The Phantom 4 Advanced does not have the 5- direction obstacle sensing capability of it's sibling – the Phantom 4 Pro. Instead, it has obstacle sensors on the front and below only, and lacks the rear and side sensors. Front and below are the most important sensors, so this is not a huge deal for us

At the time of writing, the difference in price between both models was approximately $300
—————————————————————————————————————————————–
DJI Phantom 3 Professional
VIDEO: Resolution 4K at 30FPS
PHOTO: 12MP
FLIGHT TIME: 23 minutes
SIZE:  19.3in X 19.3in X 7.6in
Great value due to newer Phantom models being introduced. Has a long range and excellent video capture. Still holds up well today.
 
Same Pro's and Con's as Phantom 3 Standard

Other info
3.1 miles / 5km range

60Mbps bitrate

Top speed 36mph
Flight modes

Point of interest

Home lock

Waypoints

Course lock

Follow me
Time lapse mode

Auto return to home

FPV mode

Auto take off

3 axis gimbal
Recommended accessories
DJI  Self Tightening Propellers – check on Amazon
DJI Hardshell backpack – check on Amazon
Great backpack that is easy to carry (it's a backpack!) and provides a lot of protection
——————————————————————————————————————————–
DJI Inspire 1 v2.0
VIDEO: 4k 30FPS, 1080p at 60FPS
PHOTO: 12MP
FLIGHT TIME: 18 minutes
SIZE: 17in X 17.8in X  11.9in
If you are a filmmaker, make sure the Inspire is on your drones with cameras shortlist. The Inspire 1 may have been superseded by the Inspire 2, but it does represent good value and it's high top-speed and ability to carry different cameras make it a great drone for filmmakers.
Pros:
Great stability in strong wind

Very good value for a professional drone with 360 degree camera capability

Fast – top speed of 50mph
Cons:
Cannot match payload carrying capabilities of hexacopters or octocopters

Poor flight time of 18 minutes

Many reports of poor customer service – as with other DJI products
Other info
Full 360 degree camera view when carbon fibre arms move out of view after take off.
2000 meters / 6562 feet range

Removable and upgradeable camera system
Compatible with multiple camera systems:

Zenmuse X3

Zenmuse X5

Zenmuse XT

Zenmuse z3
3 axis gimbal

weighs 6.2 pounds

Connect any smartphone or tablet to controller

Can fly with a second operator with optional controller

Uses camera and sonar to monitor ground position, so can fly without GPS indoors

Automatic landing gear deployment doesn't always work well with uneven ground
Recommended accessories
DJI Goggles FPV Headset – check on Amazon
Provide an amazingly immersive flying experience
—————————————————————————————————————————–
GoPro Karma
VIDEO: Depends which GoPro camera is installed (all compatible cameras feature 4K resolution and at least 30 frames per second )
PHOTO: 12MP
FLIGHT TIME: 20 minutes
SIZE: 14.4in x 8.8in x 3.5in (folded)
UPDATE: This drone is no longer available.
The GoPro Karma is a simple, easy-to-use drone with camera that lacks a lot of technology present in competing drones. However, with the bundled handgrip, the Karma works great as an aerial and ground based video platform that can capture a wide variety of footage, and is very easy to use.
Pros:
Great picture and video quality

Detachable gimbal can be used with supplied hand grip

Can be used with the excellent GoPro Hero range of cameras

Easy to use

You don't need a newish smartphone as there is a screen on the controller
Cons:
No obstacle avoidance features

Poor battery life

Is quite large and obtrusive
Other info
Note- this drone was tested with the GoPro Hero 5 black
GoPro cameras can be removed and used on supplied handmount (with drone gimbal), or used however you want. This is a big deal as it means that you don't need to buy another camera to attach to your motorbike helmet, or need to buy a handheld gimbal to get buttery smooth stabilized footage on your snowboard for example:

 
The Karma was rushed to market and suffered various issues, most notably mid-flight power failure issues. GoPro claims that legacy issues are now fixed. Main issue was a loose battery connection which sometimes resulted in the drones losing power and crashing.

When installed, the gimbal is way out in front of the propellers, so they never make it into shot, even at high tilt angles.

The Karma comes bundled with a great controller – it is ergonomic, and comes with a built in flip up screen.

Fast set up – No need to pair with phone – no connection or firmware issues

More intuitive controls than DJI products

Auto return home

Very good quality construction and quite rugged

3-axis gimbal

Range  – 1.86 miles / 3km

Top speed – 35MPH

Propeller arms do fold up, but the folded footprint is quite large, and not as portable as other drones such as both Mavic models, but it is smaller than the Yuneec Typhoon H and DJI Phantom models. The drone does come with a custom case (13in x 6in x 21 in).

Weight 2.42lbs / 1.1kg
Flight autonomy:

Dronie – faces subject and flies away whilst filming

Reveal – gradually tilts camera up whilst flying along a linear path

Orbit – lock on to target and flies around it at a constant radius
Table could not be displayed.